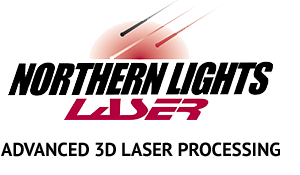 We are an Industrial Job Shop specializing in simultaneous 5-Axis Laser Machining, Laser Drilling, Cutting, and Welding of 3D parts and at angles to the surface.
Northern Lights Laser has over 25 years of Laser experience in the Aerospace, Medical, and Automotive aftermarket industries, we have the expertise to ensure precision on the most complicated projects. We also have the strong Engineering skills required to solve problems and offer recommendations for each specific part application.
Our personnel are highly skilled, experienced, and passionate about their work. We look forward to working with you on your next project.
Advanced 3D Laser Processing Services
At Northern Lights Laser, we work with advanced, difficult-to-process 3D parts and complex flat materials, such as: Rubber, Gasket, Leather, Carbon Fiber, Kevlar, Nickel Alloy, Copper, Aluminum, Brass, Paper, Plastics, Teflon, PTFE, Ceramic, Diamond, Pyrolytics Graphite, Composite, Stainless Steel, Acrylic, Fiberglass, Galvannealed and Galvanized Steel.
We're a qualified, Tier 1 Aerospace and Medical Supplier with more than 25 years of business, we've helped industries like yours process hundreds of complicated parts, including:
Turbine engine parts which require thousands of tight tolerance holes at angles as shallow as 15° to the surface.
Spun, hydro-formed, or deep-drawn parts that need to be trimmed.
3D parts with holes and cut-outs at angles to the surface.
Difficult-to-process Aerospace Alloys.
Welded parts that require minimum heat input or low distortion.
Medical parts, such as stents, pacemakers, polyester mesh components and bone marrow needles which require extremely precise machining.
Hermetic welding of precision components.
Tubular parts with irregular cutouts.
This advanced work is what sets us apart in the laser cutting industry, along with our commitment to our customers and to precision is what makes us a leader in our specialty.
Click here to see a full list of our services, or contact us now to request a quote on your current project. (952) 255-8300
Qualified Tier 1 Aerospace & Medical Laser Process Provider
We specialize in complex 3D Laser Processing, Machining & Prototypes.